Previsioni per il Surf, Notizie Surf e Meteo per il Surf
Delaware Wavefinder:
moto ondoso con condizioni di vento favorevoli
United States Wavefinder
moto ondoso con condizioni di vento favorevoli
Global BIG Wavefinder


moto ondoso potente con vento leggero o offshore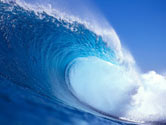 Località surf <span class="im"> nella tua zona*</span>
* Abbiamo determinato la tua posizione geografica dall' indirizzo IP, che suggerisce le localita surf più vicine . Clicca il nome sotto per ricevere maggiori informazione e le previsioni delle onde.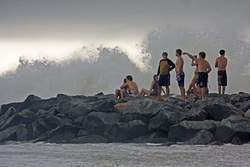 Photo credit: Bill Reilly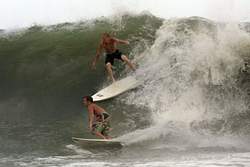 Photo credit: Bill Reilly

LA Co Lifeguards

Surf Report 3/26: 3-5' + Waist to head high New WNW swell. Minor SSW swell. Poor to Fair conditions

McKevlin's Surf Shop

10am Tuesday surf: Flat and glassy, winds 6kts NNW. water temp 59, high 1:05pm low 6:59pm #surfmckevlins #chs #follybeach #surf

Surf Station Tuesday @ St. Augustine Beach : ) The full surf report is here:

https://t.co/dy682Etz7P

. The Surf Station onlin…

https://t.co/HHlykGafjU

Aloha Surf School:

'Fanore surf report: The surf today is fairly clean and about waist to chest high. The wind is a very light onshore. Mild and mostly cloudy. Tomorrow looks similar, about waist high. The surf should then bump up a little bit for Thursday into the shoulder high range, to shoulder to head high for Friday. Light onshore both days, so easy crumbly conditions. Early for forecast for the weekend looks like nice, small, clean waves. Still early, so check back later in the week for an update. Weather looks nice and settled throughout the week too. Generally a lot of dry and calm weather with high pr...'
Note sulle località segrete
Nel fare questo sito, abbiamo cercato di includere le principali informazioni per il surf del mondo. Se pensate che abbiamo pubblicato accidentalmente una località segreta, fatecelo sapere. Se riteniamo che si tratti di un dato sensibile, noi la nasconderemo.